Providing Livestock
and Feed Transport Solutions
Earl MacDonald and Son Transport Limited is committed to providing quality transportation services for your livestock, freight, and feed. You can trust us to handle your resources safely and efficiently throughout the moving process.
Founded by Earl MacDonald in 1943, Earl MacDonald and Son Transport Limited is a family-owned business. Earl later left the business to his son, Donald MacDonald. When Don passed away, he in turn left the company to his sons, Paul and Jim MacDonald. Paul is currently the owner of Earl MacDonald and Son Transport Limited.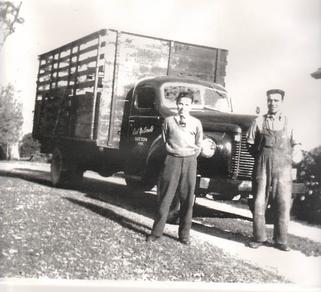 In the beginning, we only had one stake truck that transported grains and logs to local farms and businesses. We bought our first tractor-trailer and began to transport livestock in 1955.
In the 1980s, we expanded our destinations. We began to travel throughout the U.S. and Canada to deliver livestock.
We take pride in our fleet of 35 trucks. Our team utilizes livestock trailers, van trailers, and flatbeds to transport livestock and other good all over North America. Currently, our company is under the ownership of Paul MacDonald, Earl's grandson.